This story originally ran on Simcoe.com on November 16, 2018
Lucky or unlucky is a matter of perspective for a Wasaga Beach family.
It's been an extremely tough year, but all three members: Julie Wilson, Jesse Bauer, and six-month old Jamie-Leigh Wilson-Bauer, are survivors.
"I almost died, she almost didn't make it, he almost died," Julie Wilson said. "It's been a good year, though, we're all alive and breathing."
In April, Wilson-Bauer was born two months premature.
Her mother had undetected pre-eclampsia, a pregnancy complication that puts both baby and mother at risk.
"She wasn't thriving, and I was dying," Wilson said.
Wilson-Bauer was born 2 lb 15 oz, and within 24 hours had dropped down to an even two pounds.
The newborn spent the first month of her life in the neonatal intensive care unit at the Royal Victoria Regional Health Centre, until she reached a weight of 3 lb 14 oz.
Now, Wilson-Bauer is a healthy seven-month-old weighing in at 13 lb.
In September, Wilson-Bauer's father, Jesse Bauer, was driving into Toronto for work.
Bauer said that he left the beach at around 4:30 a.m.
"The last thing I remember is grabbing coffee from Tim Hortons," Bauer said.
Twenty minutes after leaving the town, Bauer's vehicle was involved in a hit-and-run.
Near the intersection of County Rd 10 and County Rd 9, Bauer's vehicle was forced off the road.
The other vehicle has not been found. Bauer's vehicle rolled multiple times down a deep ditch.
"I woke up in St. Michael's Hospital in Toronto," Bauer said. "[Julie] was telling me I'd been in an accident."
Bauer broke his neck and his back, eight of his ribs were fractured, his arm was broken, his lung punctured, and he had an intercranial brain bleed.
"The surgeon didn't think I was ever going to walk again," Bauer said.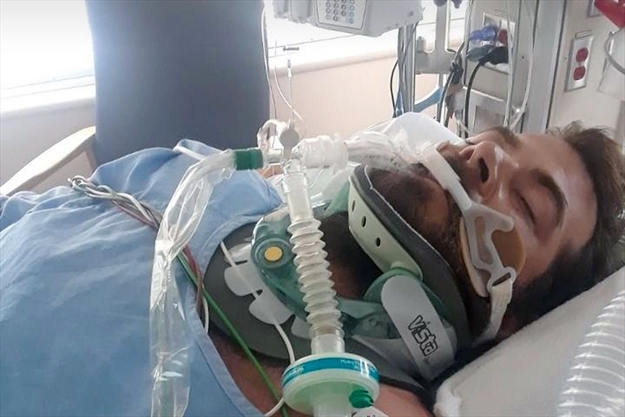 With therapy, Bauer is now able to walk.
"I'm lucky, I guess," Bauer said. "Everybody says I am, but it's hard to feel that way — considering everything."
Bauer, who worked in highrise construction, said he's not expected to ever be able to go back to work.
"If I work a desk job, I'll probably only be able to go back part-time," Bauer said. "It's hard to say what's going to happen."
Wilson is on maternity leave collecting, Bauer said, only a few hundred dollars every few weeks.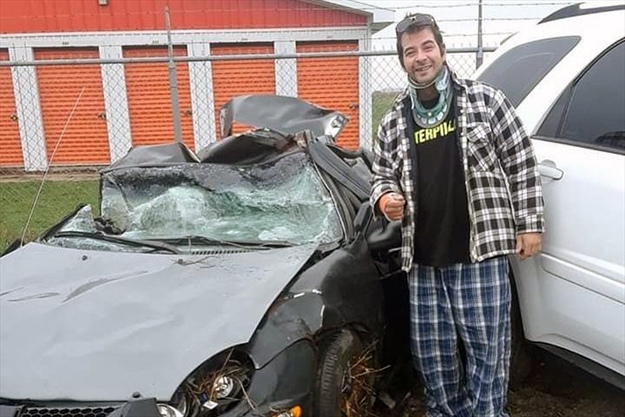 "It's been hard trying to get by," Bauer said. "You don't expect it, so you don't prepare. We didn't have any money saved."
Wilson said that there has been support from the community — the Society of Saint Vincent de Paul brings baby food once a month, among other groups offering support. But between a full-time personal support worker, an occupational therapist and physiotherapist (among other needs), money is tight for the family.
"She's got to do everything around the house," Bauer said. "I'm just starting to get dressed on my own."
"I can't pick up the baby," Bauer said. "I'm just an object in the house."